TO AMERICA ATTACKED 2 PHOTO GALLERY


COMING SOON

AMERICA ATTACKED 51

TIRED ANGELS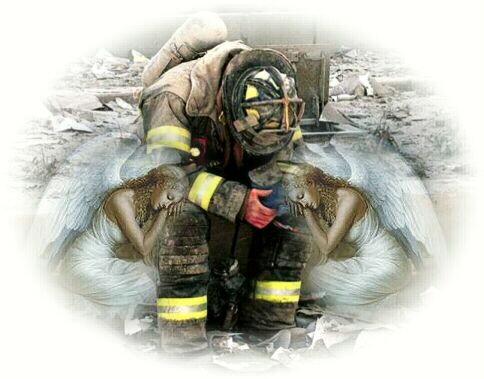 firefighters and volunteers everywhere.
I believe in angels,
I've seen them doing things.
They're sweaty and dirty and
They don't have wings.
They wear black and yellow coats
Or sometimes red or white.
When the light shines on them
Reflective tape glows bright.
They're a big family
With brothers and sisters around the world.
They go where needed
With flag unfurled.
Their families understand
And know the risks they take.
They serve to help
Not for the money they make.
While they do their work
We stand and watch.
As they save a life
With a gentle touch.
Not all are saved
Many perished there.
And they are moved
With the same loving care.
They're called firefighters
And rescue workers, too.
We offer our thanks
There's little more we can do.
There's no reward on earth
That gives them what they're due!
But I'm sure there's a special place in Heaven
For these angels true.
© 2001 Jacklyn S. Rosendahl